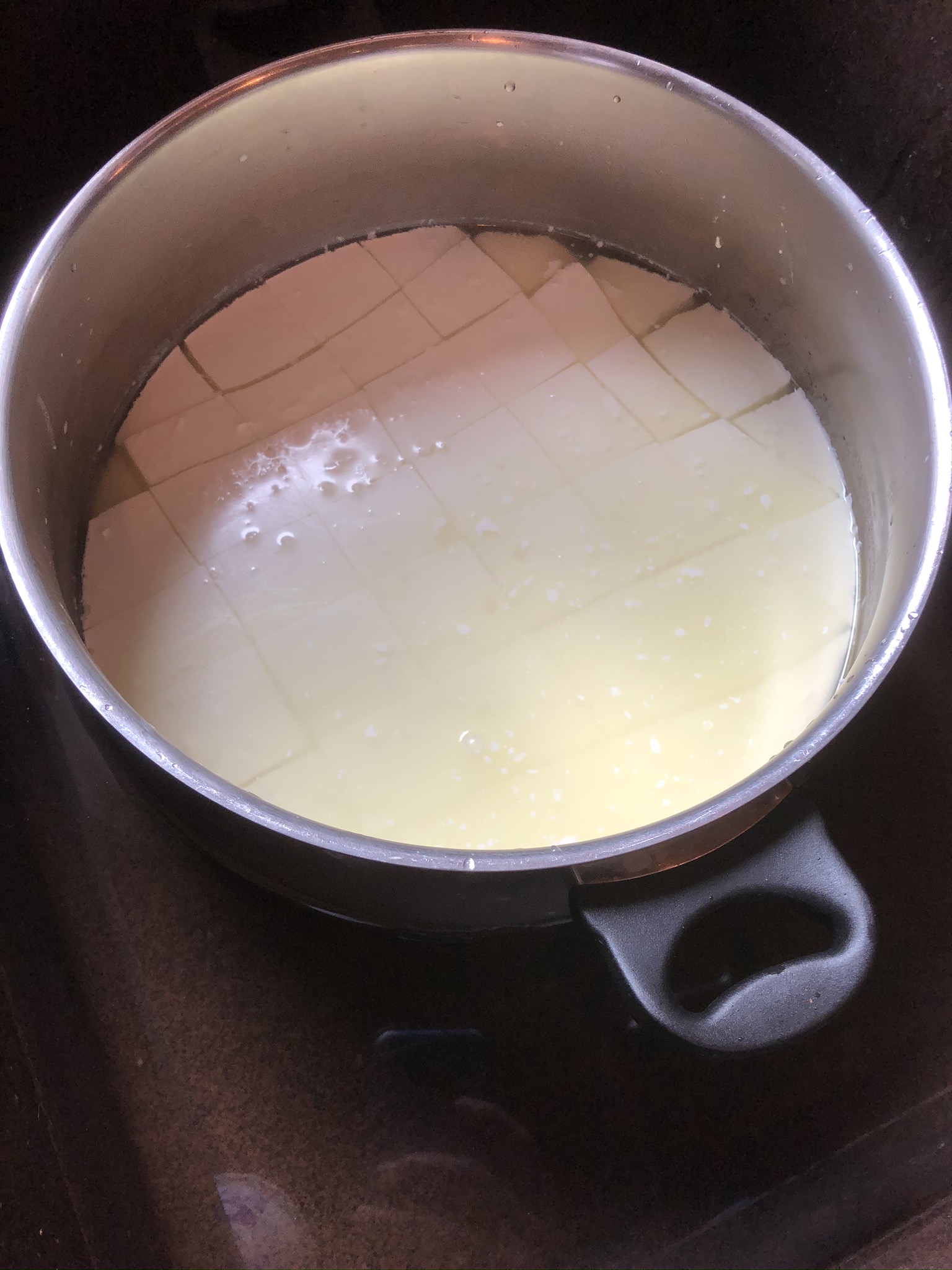 It's All Greek to Me!
Living in Eastern Oregon we often miss access to a diversity of ethnic food. We have begun to experiment with more Mediterranean and East Indian dishes to try to fill this void.
Right not in late spring/early summer and again in the early fall we have an abundance of goat's milk and of spinach. Of course, this means it is time for spanakopita a Greek pastry dish that we love. To save time we prepare the ingredients in layers much like lasagna instead of making individual servings.
For this batch we used green onions and spinach from our garden, eggs from the hen house and fresh feta cheese we had made using our goats' milk. 
Spanakopita Casserole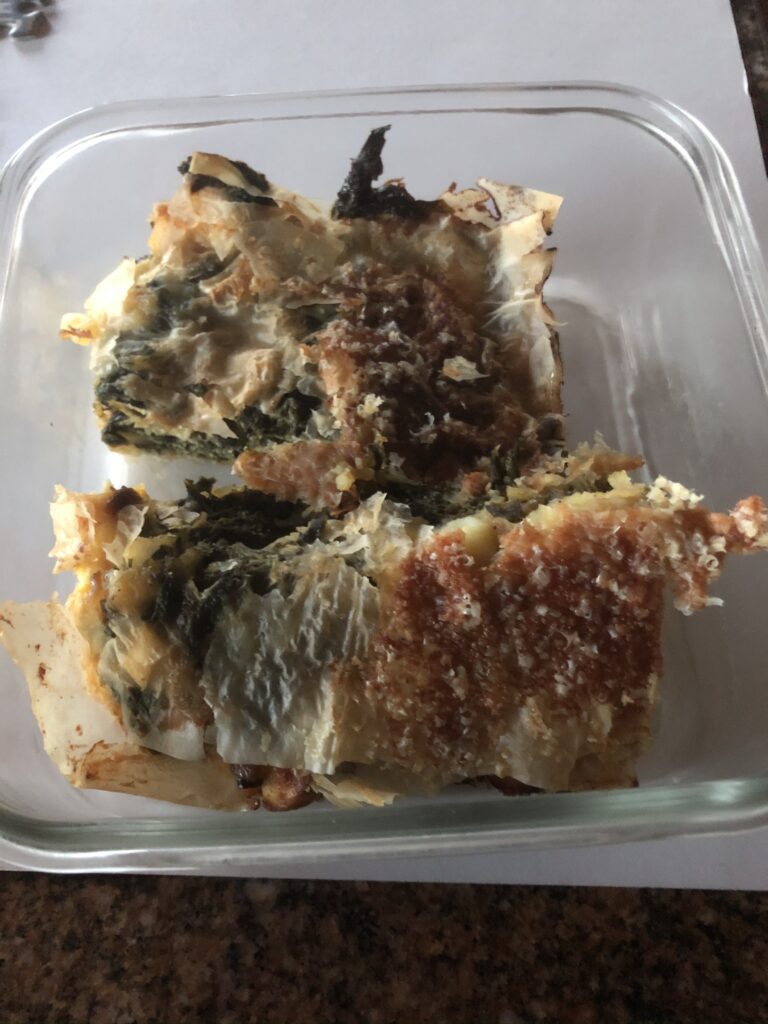 Ingredients:
3 Tablespoons olive oil
1 sweet onion chopped
½ cup green onion chopped
10 – 12 ounces fresh spinach washed and stemmed
1 Tablespoon lemon juice
1 ½ cups – 2 cups feta cheese crumbled (recipe follows)
2 eggs beaten
1 teaspoon nutmeg
2 teaspoons oregano (if using fresh use less)
2 tablespoons butter melted
½ cup of Parmesan cheese grated
10 – 14 sheets of phyllo (the number of sheets varies on how much pastry you want in it)
Instructions:
Take phyllo dough out of the freezer to defrost.
Well oil an 8X8 pan
Preheat oven to 350 Fahrenheit
In a large skillet sauté sweet onion and green onion in olive oil until onions are soft. Add the spinach and continue to sauté until the spinach is soft. Set this mixture aside to cool.
Beat the eggs with feta and nutmeg.
When the spinach mixture is cool drain any excess liquid and then mix with the egg mixture.
Unroll the phyllo dough and divide it into three equal parts
Line baking pan with first part of phyllo
Layer on 1/2 of the filling
Cover with more phyllo then repeat until filling and dough is used.
Brush top layer of phyllo with melted butter and then sprinkle with parmesan cheese.
Bake for 30 minutes.
Allow it to cool 10 minutes then serve.
Goats Milk Feta Cheese
I am a novice cheese maker and am really enjoying learning the craft. For making Feta my tip to you is keep a very close eye on the temperature. It is very easy to overheat the milk during the process. Because of the relatively low temperature of the process to make Feta I have found that putting the pot of milk in a sink with hot water in it and having a boiling pot of water near by to keep the temperature where you need it avoided me over heating it.
This is a long process. From the time I started the process until I was draining the curds took me just over 4 hours during which time, I had to be available to check temperatures often. The curds then drain for four hours – so from milk to cheese that will be soaked in a brine solution is a full day's work. The cheese remains in the brine solution for 10 hours and then dries for another 2 or 3 days. If you need feta for a recipe you should start making it 4 days before you need to use it.
We had particularly good yield from our first batch, almost 2 pounds of Feta and about ½ a cup of Ricotta.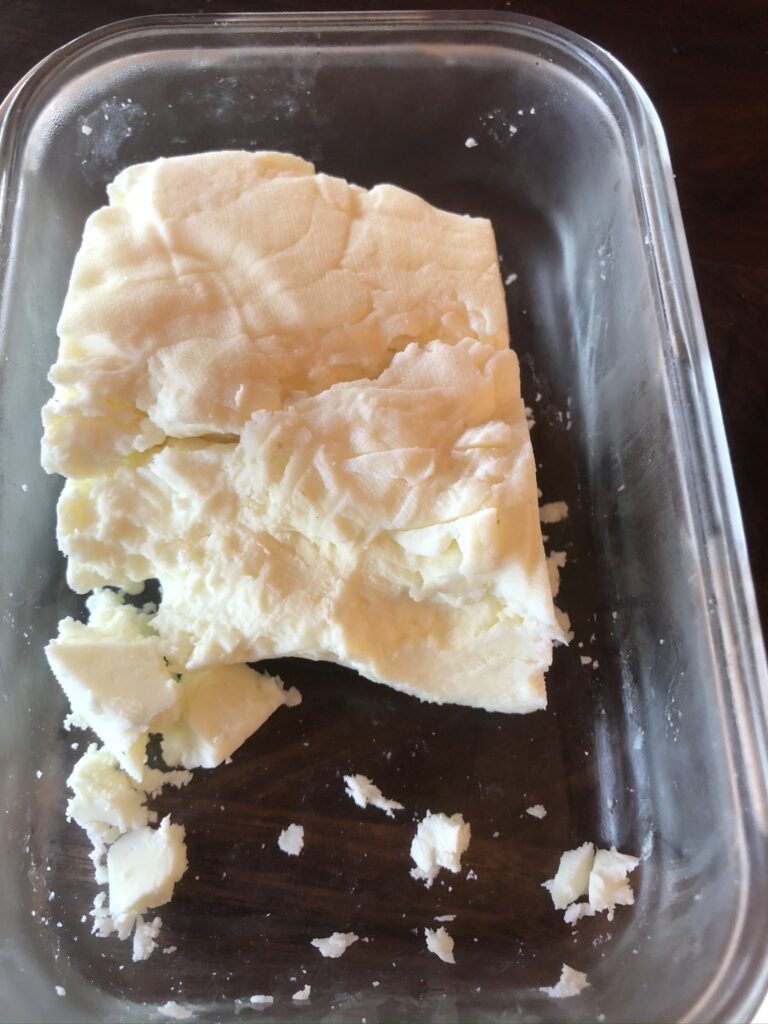 Ingredients:
1 gallon whole milk (we used Nigerian Dwarf goats milk)
1 packet Mesophilic starter culture
1 ½ teaspoons calcium chloride
½ teaspoon rennet (we use vegetable-based rennet as we are vegetarians)
1 to ¼ pounds of salt (kosher salt or non-iodized salt is best)
3 teaspoons of vinegar
Directions:
Pour milk into a large pot and place the pot in a sink with hot water in it. Water should be at least at the level of the milk in the pan but make sure it is not so deep as to allow water to overflow into the pot. Slowly heat the milk to 86 Fahrenheit.
When the milk reaches temperature stir in the Mesophillic starter culture. Maintain the temperature as close to 86 F as you can for 1 hour.
Add ¼ teaspoon of calcium chloride
Add rennet to 1/8 cup of water and stir then add rennet to milk. Stir rennet into the milk for about 1 minute.
Let the mixture stand at 86 F for 45 minutes. During this time, I found I had to sometimes take the milk mixture out of the water in the sink and that later in the process had to add a little hot water. I recommend you check the temperature every 5 minutes for the first 15 minutes then every 10 minutes after.
Check the curd to see if it had set – if so it will have the consistency of firm yogurt and when you press on it you will see whey (liquid) separate from the curd. If it is not fully formed let it stand another 30 minutes.
When curd is set cut the curd into chucks about 1" in size.
Stir the curds gently and slowly begin to increase the temperature of the curds and whey to 95 F. This process should be a slow one – and take about an hour. I drained part of the water from the sink and replaced it with 100 F water.
Continue to check the temperature and when you do slowly stir the curds. After an hour the curds and whey should be separated.
Line a colander with cheesecloth and place the colander in a container to catch the whey. Pour the mixture into the colander to drain.
Bring the corners of the cheesecloth together and either drain the curds of place a gallon jar filled with water on the curds to create weight.
After 4 hours cut the curds, which will have congealed together, into blocks 3 inches wide.
Let these blocks drain on fresh cheese cloth for another ½ hour.
Make a saturated brine by dissolving salt into ½ gallon of water. Add salt ¼ cup at a time and stir until no more salt can be dissolved. Then add 1 teaspoon of calcium chloride and 3 teaspoons of vinegar.
Place the feta blocks in the salt solution and leave them for 10 hours – excess time will result in salty cheese. This soak occurs at room temperature.
Drain the feta and leave it uncovered at room temperature for 2 or 3 days. When dry store in covered containers in the refrigerator.